What's needed to begin
Before beginning work on a soul painting, all I ask the client for, is a photo of themselves, or whomever the painting is for. With this and their name, I can get to work.
Your Intention
I begin by meditating with the intention of capturing the inner light of the person, to come through in a way that will resonate best with them. You can request guidance and clarity about relationships, work life, personal life or spiritual development, as I create your painting I will focus upon this matter.
Sometimes as with a miscarriage or an ancestor who has passed away, it's not always possible to provide a photo or memento but it may still be possible to create a soul painting to show the eternal connection. Feel free to contact Breda to discuss options.
Your Soul Story
I create each soul painting with love and light as the focus. Elements flow together, telling a story through colour, metaphor and symbolism. A soul painting guides the person to see the wider perspective on their life path and soul purpose, rather than getting caught in the details of daily life.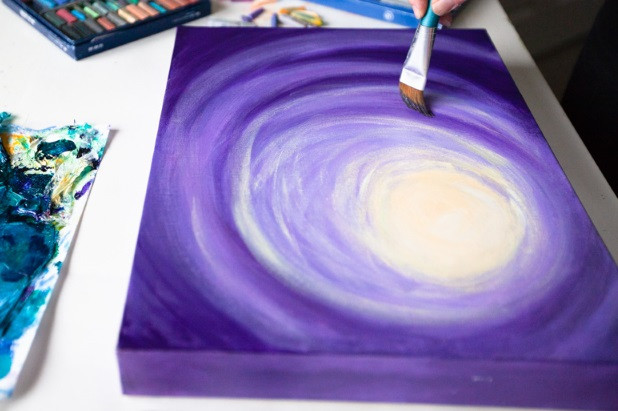 Your Personal Letter
When the painting is complete, I write a letter sharing the messages and story behind the imagery that came through during the creation of the soul painting. The letter acts as a key to unlock private insights and understanding into the symbolism and messages within the painting. It also means that people who view your painting, may be unaware of the personal message it holds for you. You will decide who you share the insights with.
'The letter of guidance which accompanies the drawing, is just as powerful as the painting. I am moved every time I read it, as it beautifully depicts my soul's journey and reminds me of Who I really am. Sometimes life has a way of blocking our truth, light and purpose and Breda's gift to me is this precious reminder.' (Helen)
The Benefits
As a soul painting hangs on your wall, it can act as a constant reminder of the brightest and best part of who you are. You can work with your painting as part of your daily meditation practice or simply enjoy the visual reminder of your unique gifts, inner beautiful and potential, which can be really useful when doubt or uncertainty arise.
Whatever way you connect with your soul painting, will be right for you.
'When I unwrapped the picture the overwhelming feeling I had, was that it was so right. It is full of energy, warmth, protection and light. Breda's work comes straight from the heart.
Our soul drawing is like hanging a spiritual anchor on my wall to help me navigate this crazy world.' (Jean)